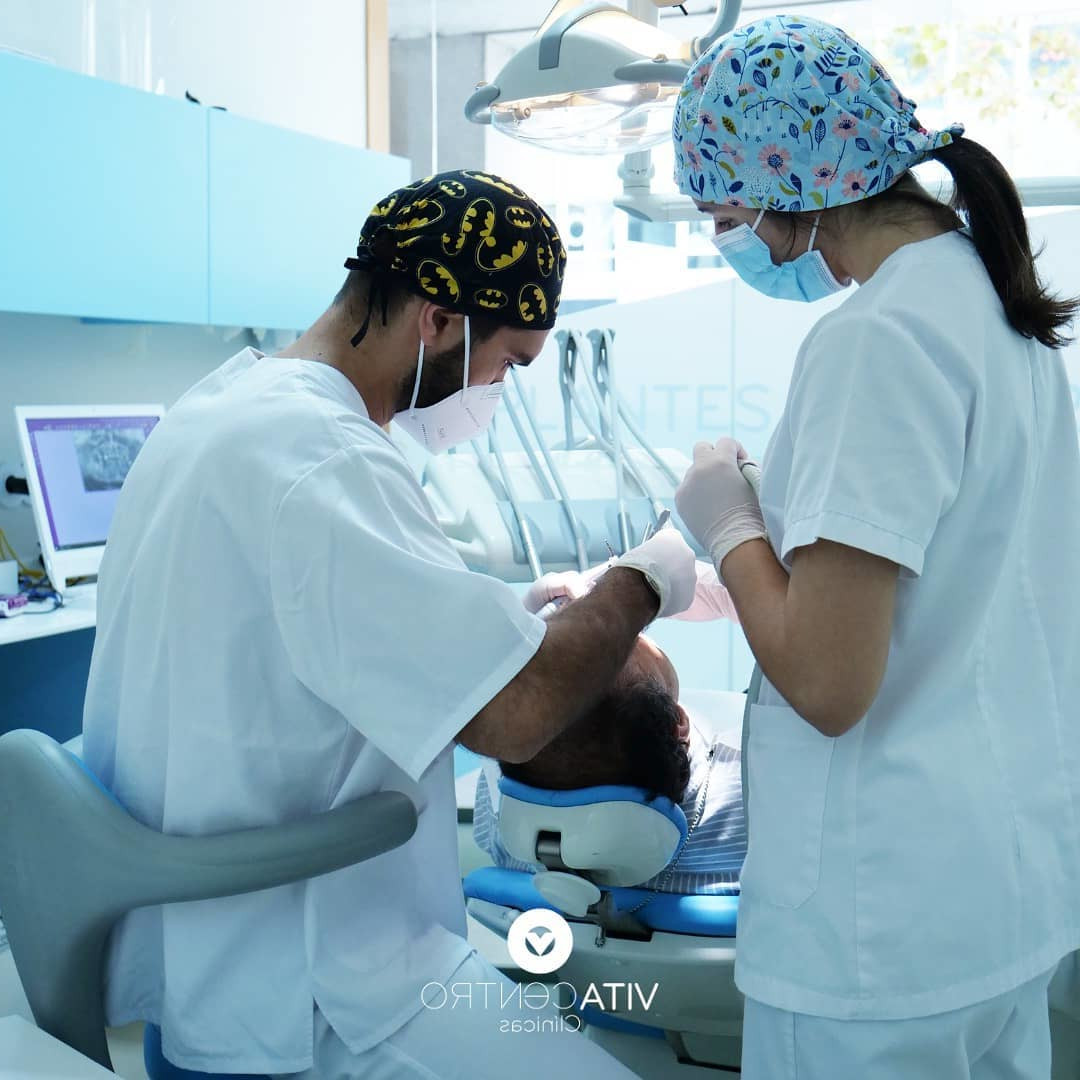 Save 50% on your dental implants abroad at Vita Centre dental clinics in Portugal, Lisbon, Setúbal.
Present-day dentistry offers a variety of solutions for people with missing teeth: dentures, light alloy dentures, bridgework and ceramic crowns.
However, the current best solution comprises dental implants.
While dental implants are a bit more expensive than dentures, the results are exceptional. They resemble natural teeth and improve their users' quality of life. They are able to chew and talk naturally, and their teeth's aesthetics are restored.
Why make dental implants at a clinic abroad?
Dental implants at our clinic are excellent and affordable.
This enables lowering costs so that users can benefit from implants at affordable prices.
You have the chance to get to know a lovely country.
What is a dental implant?
It consists of a small titanium screw that replaces the root of a missing tooth. This allows replacing one tooth or all the teeth on the dental arch. A ceramic crown is fastened to the implant.
Dental Tourism and dental implants abroad in Lisbon

Dental tourism is a rising trend. There are several reasons that explain why people travel to Portugal looking for high-quality dental implants. Among them, we can highlight the professionalism and expertise of dentists and their globally recognised techniques, dental implants at lower prices, the desire to travel to new places, and accommodating these travels with oral treatment.
The European Union created the freedom of movement that allows its citizens to move within the territory of the Member States. Currently, Portugal has tourists coming from various European countries such as Germany, Austria, Belgium, Netherlands, France, England, and Switzerland. The main reason is related to lower prices in Portugal compared to these countries. High-quality dental treatments simply have a lower cost here.
Portugal is very popular regarding this type of tourism due to the expertise of Portuguese dentists, who use techniques such as All-On-4 implants. Besides that, Portugal is a delightful country with friendly and welcoming people.
It has stunning landscapes, beaches with pleasant temperatures, and an age-old history full of castles and monuments. At the same time that tourists have dental implants abroad, they will also be able to visit uniquely charming and mysterious places with remarkable histories.
Advantages of implants abroad
Tourists travel to Portugal to take advantage of the low prices, but they also want to enjoy a sunny country with beaches, where they can meet friendly and welcoming people while trying our excellent Portuguese wine and cuisine.Dental tourism in Portugal allows patients to save money and enjoy treatment without waiting. In other words,   the clinic will prepare everything and the patient will be admitted quickly. In addition to this, the patient will be able to have a good time while visiting a different country.
In relation to the economic aspects, you will clearly save money and can also ask for the reimbursement of some dental treatments in your home countries.
The reason behind our low prices for dental implants at our clinic
In Portugal, some costs such as the rent, average income, and affordable dental materials combined with the local currency will reduce the final price of dental implant in comparison to countries with a higher cost of living.How are we able to maintain high-quality treatments at such affordable prices in comparison to clinics around Europe?
Portuguese dentists provide high-quality treatments. Our materials are the best available on the market as we use international brands. However, our final price is lower if we compare with other clinics based in Belgium, Sweden, Switzerland, Norway, Germany, England, and France.
Dental Implants abroad step by step
Step 1 – Diagnosis and placing of implants 
Treatments involving dental implants comprise a few procedures. Find out about the procedures associated with the dental implants at our clinic abroad.
The first appointment, for providing a quote and a diagnosis is free of charge. Send us an x-ray of your jaws or schedule an appointment at one of our clinics in Lisbon, Setúbal. The time required for placing the implants is three days. After the dental implants are placed in the bone, the patient must wait for two to five months for osteointegration.
Step 2 – The final restoration, with crowns and bridgework at affordable prices at our clinic abroad
At this time, the visit to our clinic takes one to two weeks, depending on the chosen type of prosthesis. Moulds of the mouth are obtained and sent to our laboratory. Healing abutments are placed and the new teeth are fastened onto the implants.
VitaCentre Medical Reference- Reviewed by VitaCentre Dental Clinic Staff on June 4, 2023
Dental Implants abroad