Implant Retained Dentures are an excellent solution to replace your missing teeth.
Implant-Supported Dentures
The lack of teeth creates several emotional and physical problems. Do you feel embarrassed and try to hide your smile? Is it difficult to chew your favourite foods?
What are the main problems due to lack of teeth?
Headache
Muscle problems
Changes in the remaining teeth and discomfort
Difficulty chewing
Embarrassed smile
Implant-supported dentures restore your smile and bring back your physical and emotional well-being. They replace the upper or lower teeth. So they are a safe option and have a natural appearance. They are quite comfortable and more functional compared to traditional removable dentures.
If you are interested in implant-supported dentures, read our article and get to know the different types of dentures.
What if I don't have lower teeth?
Ball-retained dentures
Ball-retained dentures are the solution for the lower teeth. The two lower implants are the anchor for the denture. The denture is attached to implants and allows chewing and speaking without slipping. The denture is also more comfortable.
It is the ideal solution for you if you want a fixed denture. But remember that the maintenance of the implants and the denture are very important. Adjustments are necessary. Hygiene is essential. So keep the denture clean, free of food particles and especially without hard foods, such as seeds, because they cause discomfort in the gums.
What is the solution to the lack of upper teeth?
There are several solutions to the lack of upper teeth. Four to six or more implants are used to screw the dentures. The screws attach the denture to the titanium implant, keeping it stable in the mouth. They are very beautiful and natural. You cannot remove it from your mouth every day. However, maintenance consultations are very important to ensure the hygiene of your denture. The dentist regularly removes the denture from your mouth for cleaning.
What are the benefits of Implant-Supported Dentures?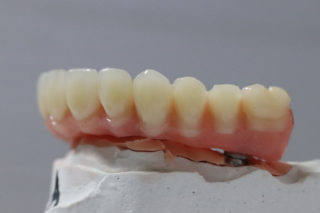 Implant-supported dentures are similar to natural teeth. Implant retained dentures bring back your smile and the possibility of eating the foods you like best. Therefore, you become more confident and your quality of life is improved.
Due to their attachments, they are anchored firmly in the bone, remaining stable. They feel as if they were your own teeth, when talking, smiling and chewing.
Implant-supported dentures eliminate problems with speech and insecurity. So they are an excellent solution for those who don't have teeth.
How much do implant-supported dentures cost?
Implant-Supported Dentures are cheaper than you think. If you want to know the exact cost of the treatment, please contact us or send us an x-ray of your jaws. With the x-ray we can see your dental structures and inform you about the price.
Implant retained dentures are cost-effective and the price will vary depending on the number of implants required. So the price is different if the number of implants varies between four, five or six. The cost of implant-supported dentures varies depending on the type and number of implants. For example, a denture supported by two implants holding ball attachments has a different price than a denture supported by four implants.
In conclusion, implant-supported dentures are affordable.
Dentures without implants
They replace teeth but they slip and are sometimes uncomfortable.
They are very cost-effective and affordable.
It is not as if they were your own teeth, especially if you no longer have any support (natural teeth).
They increase bone loss.
They slip when you are eating and talking.
It is necessary to use adhesives to hold them.
Implant Retained Dentures
It is best solution to replace teeth.
It is an investment for life.
The dentures feel as if they were your own teeth.
Preserve the jawbone quality and quantity.
They are stable and don't slip.
They don't need adhesives.