Fixed Single Implant Placement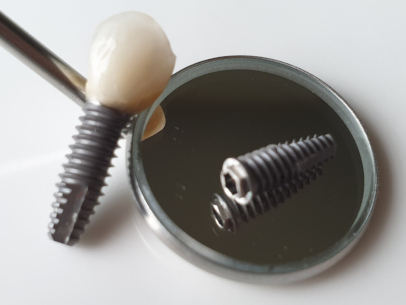 This is a commonly used procedure. A titanium rod serves as the replacement for a missing tooth. A placement is generally made a few months after tooth loss. The prosthesis or ceramic crown is placed two or three months later.
During this intermediate time, osseointegration will occur. The ceramic crown can be cemented or screwed onto the implant.
Single dental Implant
You can also insert an single dental  implant immediately after dental extraction.
Immediate Loading Implant
This treatment allows the patient to have a tooth extraction on the same day or wait a few weeks after the extraction to place the implant. At this time, a provisory crown is fixed and will be replaced months later with another one. This is called an immediate loading. The procedure will be completed quickly and the aesthetic benefits will be higher. Immediate loading allows you to enter the clinic without a tooth and, in the same day, you will leave the clinic with a fixed, dental implant.
This procedure also allows for the replacement of all missing teeth in the upper or lower jaw.
Not everyone can have immediate loading implants. Learn more about teeth in a day implants…
---
Bridge Over Implants
A bridge over implants is a similar procedure to the one referred to previously. It is possible to do the extractions and place the implants on the same day or a few weeks after, while the bone regenerates.
The patient can also be lacking three teeth and, after an assessment of the available bone, can have two implants placed.
Bridge over dental implants
The main difference between the procedures is that it is possible to place two implants and leave an empty space in between. On these two implants, a three-element ceramic bridge will fit. The intermediate crown rests on the gums. This procedure decreases treatment cost and allows for the filling of the spaces left by the three teeth. Dental crowns can be made of metal ceramic or zirconium. Learn more about crowns…
Overdenture – Implants to Fix Dentures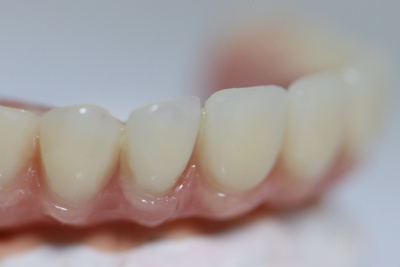 This procedure consists of the placement of two implants in the lower jaw. The goal is to place a fixed acrylic dental prosthesis. To fit the denture, a ball-shaped device is used. This ball will fit in an 'O-ring' placed on the denture. This treatment creates stability.
The full denture will rest safely on the gums. It is suitable for someone without any teeth on the lower jaw.
All-on-4 Implants
The technique of All-on-4 was created to rehabilitate patients with no teeth and low bone density.
It is a surgical procedure, which allows for the placement of four implants to support a full arch of teeth. These prostheses contain a set of 12 teeth. The fixed prosthesis is made of ceramic or acrylic-metal denture.
The latter is made of a metal bar in its interior with four holes where the implants will be placed. It is fixed, stable, and looks like natural teeth. This treatment is recommended for all edentulous persons, but it was specially created for those who have low bone density. The side implants are tilted at an angle to avoid bone grafting. Learn more about All-on-4 Implants…
All on 4 dental Implants
---
All-on-6 dental implants abroad
It is the same as the above-mentioned procedure. At our implantology centres, we recommend this  treatment to edentulous patients with no teeth on the upper jaw. More implants are placed on this maxilla because the fixation need is higher.
---
Zygomatic Implants – Latest Technology
This implant is different from ordinary dental implants because it involves the very strong bulk of bone that forms the cheekbone. It was developed as a new alternative to replace bone grafting and treat patients who are severely atrophic in the maxilla. The aim is functional and aesthetic rehabilitation of patients through an upper fixed prosthesis, which will replace complete and removable prostheses.
A zygomatic implant serves as a final alternative to an aesthetic, chewing, functional, and social rehabilitation of patients with severe alveolar atrophy on the maxilla. Read more about Zygomatic Implants…
---
Dental Implants types
Short Implants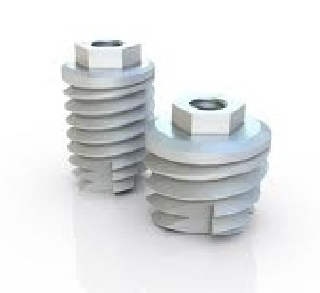 The success of conventional dental implant placement depends on bone density, as it will be placed on the bone structure. The bone density and its quality will affect the stability of the implant placement. The short implant was developed as an alternative to people with low bone density and unwilling to try grafting procedures that make the treatment longer and more expensive.
An excess of bacterial plaque causes bone loss. This will result in a bone infection on the tooth leading to periodontitis. This loss can also be caused by the extended lack of teeth, continuous use of removable prosthesis, or natural aging. With short implants, it is possible to avoid grafting surgery, in some cases.
The surface, spirals, and end are specially designed to be applied on areas with low bone density. By using this short screw, bone grafting is not necessary. This type of implant has small dimensions and requires less drilling on the bone structure. Despite the reduced dimensions, 6.0×5.7mm, the stability is equal to ordinary implants.
Titanium Implants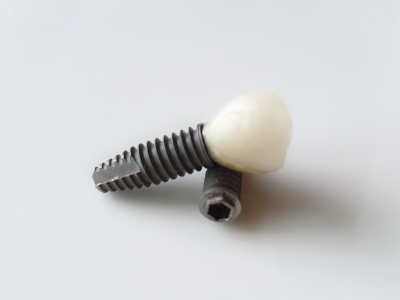 For decades, experts have carried out studies to find the most suitable material for dental implants. The purpose of these ongoing and comprehensive studies is to choose—among the diverse and available material found in nature—the best and most suitable solution for patients and dentists. The aim is to make surgical procedures easier and also to increase the lifespan of the treatment. Pure titanium has been the most widely used material. While there are other solutions and several implant types, they are being used to a lesser extent.
Titanium characteristics: Titanium is a highly resistant and long-lasting material. It has been found that this material effectively resists corrosion. It is a solid material at ambient temperatures. In addition, it is an extremely light, strong, and white-metallic-colour material. Titanium is biocompatible, which reduces the rejection response from the body.
Zirconium, Ceramic Implants
The use of ceramic implants in dentistry is still recent, however, they are not very common. Experts believe that, in the future, zirconium will be used an alternative to titanium. Up until now, only a few clinics have used the recently discovered material in dental implants, because there is no conclusive evidence regarding their durability and lifespan. Aesthetical and functional characteristics of zirconium dental implants:
The white colour is quite similar to that of a natural tooth and its root. Therefore, from the aesthetical point of view, there would be excellent results.
As a highly resistant material, it is free from oxidation and corrosion, which makes it suitable for dental implants.
It has great resistance to the pressure caused by chewing. It does not cause pain or discomfort. On the contrary, they are fairly comfortable.
No toxicity levels were detected.
These features make zirconium implants a functional replacement for a missing, natural tooth root.
Nanotechnology
Every year, there are innovations in dentistry and implantology. The surface implant treatment determines to a large extent the success of the surgery. When applied to the implant surface treatment, it will help to increase implant effectiveness, not only in terms of healing, but also to significantly improve bone formation.
What is nanotechnology?
It is a combination of physics, chemistry, molecular biology, and information technology that studies and creates nanoparticles. These molecular nanoparticles are used and adapted to different fields, including Health, which we will highlight here. Technological factories are built to produce molecules that can be adapted to various purposes. In the Health sector, nanotechnology attempts to solve human problems and heal diseases.
Nanotechnology Advantages
Faster healing. After surgery, the healing time is highly reduced. Previously, in difficult cases, it was necessary to wait about five months before the healing was completed. Through the use of this new technology, the whole process can take only one or two months.
Healing is no longer such an issue. Bacterial infections are rare. If the healing time is longer after surgery, there will be a greater risk of infection. By applying nanotechnology to the surface of the implant treatment, the healing time will be reduced and the likelihood of infection will be lowered. Faster osseointegration and increased stability.
If the fixation on the maxilla or mandible bone is more effective, the stability will be increased. This improved procedure will guarantee greater comfort to the patient when chewing food, especially in the case of hard food. Due to the above-mentioned reasons, implant durability will be higher. These types of implants are highly used in protocols of immediate loading implants, because it will quicken the osseointegration process. Thus, nanotechnology is used to speed up the process of integration and healing.
Biological Implants
Biological implants are the result of a ten-year investigation. The researchers are Portuguese and the implant was recently introduced in the north of Portugal, in Oporto. The principle of biological dentistry is that all treatments should be done following the protocols of human biology in order to ensure patient satisfaction.
This method takes advantage of the natural healing and restoring processes of our body. The biological implants are made with biocompatible materials and the procedures are less invasive, which speeds up osseointegration and healing. They consist exclusively of a single piece, unlike conventional implants. This single piece connects the bone to the new tooth. As a natural union of the gum tissue, exactly the same as what happens with a natural tooth, it presents a major advantage. According to the researcher responsible for this breakthrough, the fact that it is a single piece will help to improve the natural regeneration of the body.
Zygomatic Implants
The zygomatic implants are characterised by their greater dimensions compared to ordinary implants, about 30-52mm, and by their different physical features, such as diameter and how they are angled.
The placement is also different, as it is placed on the zygomatic bone, commonly called the cheekbone. It is placed inside the mouth and can support screwed prostheses.
They are used in cases of severe maxillary atrophy; persons with loss in height and width of the bone. Persons who are unwilling to try bone grafting.
Cases that are considered impossible can be treated through the zygomatic method.
This innovative method was discovered in Sweden by Branemarck and successfully solves an issue for those who do not have bone on the upper jaw. It is considered to be a great breakthrough in implantology and is exclusive to carefully selected patients.
It is carried out in a hospital setting with general anaesthesia. This procedure cannot be performed by any dentist. They need to be certified and complete specific courses.
The zygomatic breakthrough and its correct implementation will return to the patient the ability to chew and speak properly, which will improve self-esteem and appearance.
Reviewed by VitaCentre Dental Clinic Staff on August 29, 2022
Scientific  sources and studies:
Lindh T, Back T, Nystromm E, and Cunne J: Implant versus tooth-implant supported prostheses in the posterior maxilla: A 2-year report. Clin Oral Implants Res 12:441-449,2001.

Lee JJ, Rouhfar, and Beime OR: Survival of hydroxyapatite coated implants: A meta-analytic review. J Oral Maxillofac Surg 58: 1372-1379, 2000.

Balkin B: Implant Dentistry: Historical overview with current perspective. J Dent Educ 1988; 52: 683-695.

McCracken M: Dental Implants materials: Commercially pure titanium and titanium alloys. J Prosthodont 8: 40-43,1999.

Schnitman PA: Implant Dentistry: Where are we now? J Am Dent Assoc 124: 39-47,1993.

Smith D: Dental Implants: Materials and design considerations. Int J Prosthodont 6:106-117,1993.